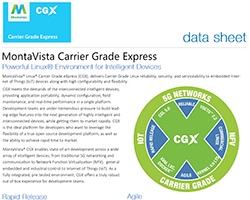 MontaVista Carrier Grade Express
MontaVista® Linux® Carrier Grade eXpress (CGX), delivers Carrier Grade reliability, security, and serviceability that is highly configurable, flexible, and of consistent high quality. CGX meets the demands of the interconnected intelligent devices, providing application portability, dynamic configuration, field maintenance, and real-time performance in a single platform.
CGX will address a very large embedded device segment including networking and communications, instrumentation and control, aerospace and defense, SOHO devices, medical electronics and the "Internet of Things (IoT)" markets.
Learn more about MontaVista CGX.