Overview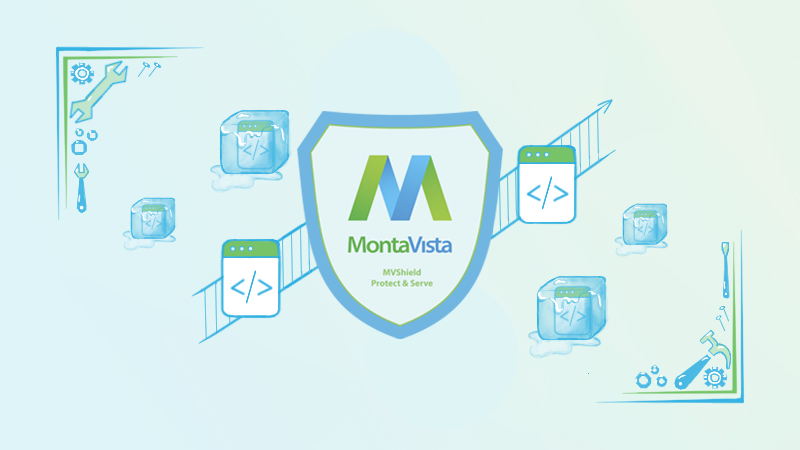 For more than two decades, MontaVista has been a trailblazer, seamlessly embedding Linux into diverse applications, shaping innovations and transforming possibilities. As a leader in the Embedded market, we have the prowess to target any baseline, driven by our cutting-edge facilities for building and testing. Our expertise is finely honed through the development of Carrier Grade Linux products, cementing our position as unrivaled subject matter experts in the dynamic realm of embedded Linux.
Whether a short task of integrating a newly released package to an older kernel version or longer commitment that requires a dedicated engineering resource, MontaVista has a support program to your needs:
Standard support included in MontaVista Linux products
Engineering hours for shorter and focused tasks on demand
Yearly or half-yearly dedicated MontaVista engineering services to your development team
Project-based support to achieve a defined deliverable requirement
Discover MVShield, a powerful support program designed by MontaVista for CentOS and Rocky Linux, distributions derived from Red Hat Enterprise Linux® (RHEL).
Streamline Your CentOS and Rocky Linux Journey with MVShield
MVShield offers expert consultancy for CentOS and Rocky Linux releases, end-of-life (EOL) transitions, and support cycles. MVShield ensures a smooth transition just like RHEL. Developers embedding a CentOS or Rocky Linux distribution commonly face the challenge of moving forward with new releases for bug fixes, CVEs, and features. However, frequent updates to a new Linux branch every 6-9 months can disrupt development environments, lead to inconsistent testing, and result in higher costs and missed schedules.
This is where a MVShield support program can offer a great hand to accelerate your embedded projects and reduce the overall costs, efforts and risks.
MVShield enables customers to freeze their CentOS or Rocky Linux branch, making it a perfect fit for sectors like network and wireless infrastructure, medical, and military-aerospace. In these industries, a stable and controlled development environment is essential for maintaining product integrity, integrating CVEs, and meeting strict product deadlines.
In response to the official EOL date on June 30, 2024, MontaVista has decided to extend the operational life of CentOS 7.9, offering sustained security updates and technical support through MVShield.
Transitioning to CentOS Stream
As of January 2022, the CentOS project shifted its traditional approach to the CentOS Stream model, offering more limited stabilization options. In response, the original founders of the CentOS project established the Rocky Enterprise Software Foundation, introducing Rocky Linux to replicate the original intent of CentOS Linux by deriving from RHEL.
MontaVista's Commitment to Rocky Linux
Since April 2021, MontaVista has been a Principal Sponsor of the Rocky Enterprise Software Foundation and dedicated to the development of the Rocky Linux ecosystem. As a testament to this dedication, we have integrated Rocky Linux in our MVShield support programs, particularly for distributions targeting CentOS 8 as well as Rocky 8 and 9 baselines.
Despite the changes to the CentOS project source distribution announced by Red Hat in June 2023, MontaVista continues our firm commitment to Rocky Linux, providing commercial support for Rocky Linux 9.2 and upcoming 9.x releases.
With more than 2 decades of experience, MontaVista can promise that MVShield support programs would allow you to simplify your Linux experience, explore Rocky Linux, find optimal CentOS 8 replacements and secure long-term success.
MVSHIELD ADDS REAL VALUES TO YOUR PROJECT
As a high quality support program, MVShield can bring you real value adds as below:
Timely technical support resolution via a Service Level Agreement (SLA) to leverage MontaVista's deep expertise in embedded Linux
Reduced risk and liability for defects and CVEs due to continuous maintenance and support program built up from over 20 years of embedded Linux product development
Cut development and maintenance costs by reusing a ready-to-use validated test, build, QA and support framework
Long-term support for CentOS® vaulted releases, allowing product lifetimes of 10 years or more
MontaVista will provide robust CVE and bug fix updates that are thoroughly tested through our QA test infrastructure. In addition, MontaVista can provide a custom SLA to cover engineering requirements needing a rapid response and resolution for key schedule milestones and launch events. We are also very flexible to work on important bug fixes and CVEs deemed necessary to fix in your timeframe to meet customer commitments. This includes providing quick turnaround "hot" fixes to potentially devastating 9/10 scored CVEs.
The following diagram describes the long-term aspects of MVShield. We always utilize the CentOS or Rocky project baseline but keep maintaining this over a much longer duration. With MVShield, you don't have to upgrade the minor CentOS/Rocky versions as we keep your chosen baseline updated with backports.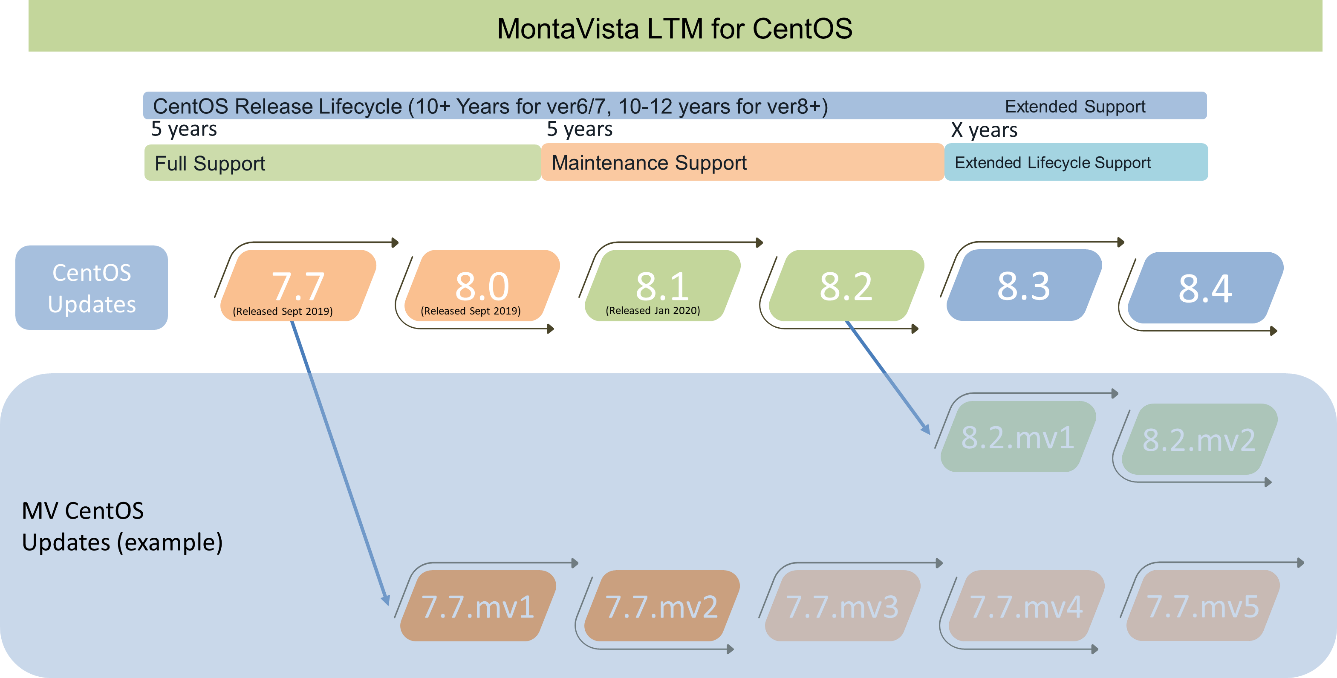 WHY WOULD YOU CHOOSE MVSHIELD?
There are some good reasons to choose a MontaVista-supported CentOS or Rocky program:
Enterprise Linux base: MVShield follows a well-known baseline RHEL and has an extensive application ecosystem
Competitive pricing: Our services have a fixed yearly cost with no run-time fees or licenses that will save 30-50% of your annual spendings
No lock-in effect: All open-source distribution, no multi-year tie-in with the service
Risk reduction by having MontaVista handle the distribution maintenance for security vulnerabilities and defects, and allowing you to focus on your products core value
Peace of mind for having a trusted partner to provide advice for your Linux needs and be on-call to handle technical support issues
For insights, the following diagram depicts some key differences between RHEL, community CentOS and MVShield.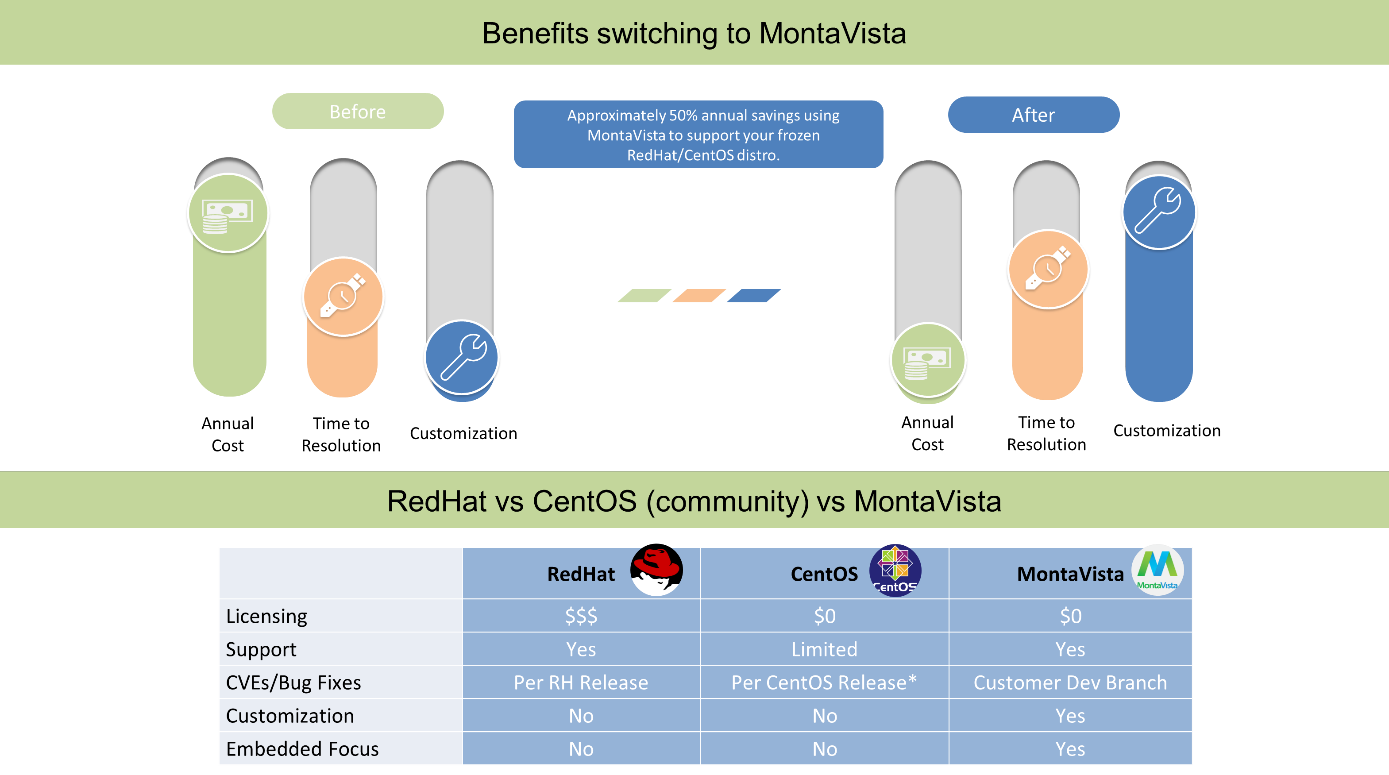 Our commercial support offering for CentOS and Rocky Linux distributions, MVShield, is available now!
Get in touch by sending an email to sales@mvista.com or filling in the Contact Us form today!
---
This site is not endorsed by the CentOS Project