MVShield for CentOS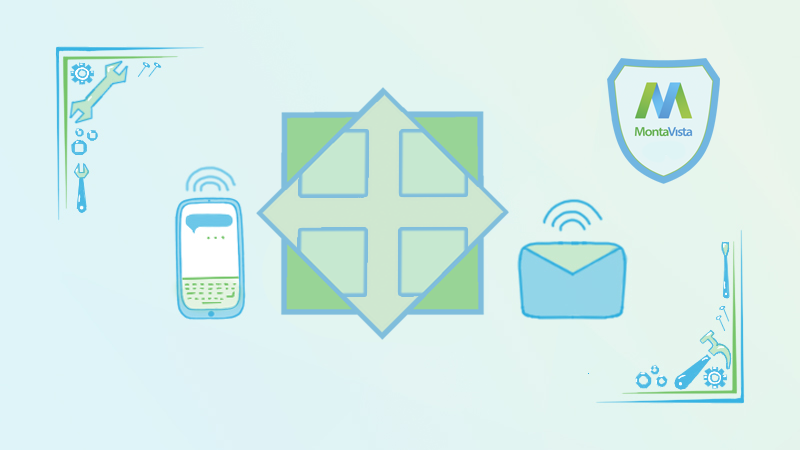 MontaVista is best known for our Carrier-Grade Linux products and support services, but we also provide maintenance and support programs for other distributions.
One of MontaVista's most prominent and popular support program has been MVShield for CentOS, a distribution derived from Redhat Enterprise Linux® (RHEL). However, like RHEL, developers embedding a CentOS distribution in products will have to continue moving forward with new CentOS releases to receive bug fixes, CVEs, and features. Such update to a new Linux branch every 6-9 months makes for a disruptive development environment and inconsistent testing resulting in higher cost, missed schedules, and challenging QA practices.
From January 2022, the CentOS project has decided the that traditional model of working with the CentOS distribution will move to the CentOS Stream approach, which offers more limited stabilization options. Because of this, the original founders of the CentOS project founded another Linux consortium, the Rocky Enterprise Software Foundation (RESF), that published Rocky Linux. Rocky Linux is aimed to replicate the original intent of CentOS Linux, reproducing a derivative of RHEL. MontaVista has since April 2021 been a Principal Sponsor of RESF, and our MVShield for CentOS product line will embrace Rocky Linux in the very near future.
MVShield for CentOS allows customers to freeze the CentOS branch they are using. It is best suited for customers who utilize CentOS in markets like network and wireless infrastructure, medical, and military-aerospace. For such companies, having a stable, frozen development environment enables them to maintain product integrity, build a secure product (by incorporating CVEs) and meet their product deadlines. This is crucial for success.
The specific value points for MontaVista's support program for CentOS distributions include:
• Timely technical support resolution (via a Service Level Agreement) leveraging MontaVista's deep embedded Linux expertise
• Reduced risk and liability for defects and CVEs due to continuous maintenance and support program evolved over 20 years of embedded Linux product development
• Lower development and maintenance costs by reusing an existing, validated and proven test, build, QA and support framework.
• Long-term support for also CentOS® vaulted releases, allowing product lifetimes of 10 years or more!
MontaVista will provide robust CVE and bug fix updates that are thoroughly tested through our QA test infrastructure. In addition, MontaVista can provide a custom service level agreement (SLA) to cover engineering requirements needing a rapid response and resolution for key schedule milestones and launch events. We are also very flexible to work on important bug fixes and CVEs deemed necessary to fix in your timeframe to meet customer commitments. This includes providing quick turnaround "hot" fixes to potentially devastating 9/10 scored CVEs.
The following diagram describes the long-term aspects of our offering. We always utilize the CentOS project baseline but keep maintaining this over a much longer duration. With MVShield for CentOS distributions, you also don't have to upgrade the minor CentOS versions, we keep your chosen baseline updated with backports.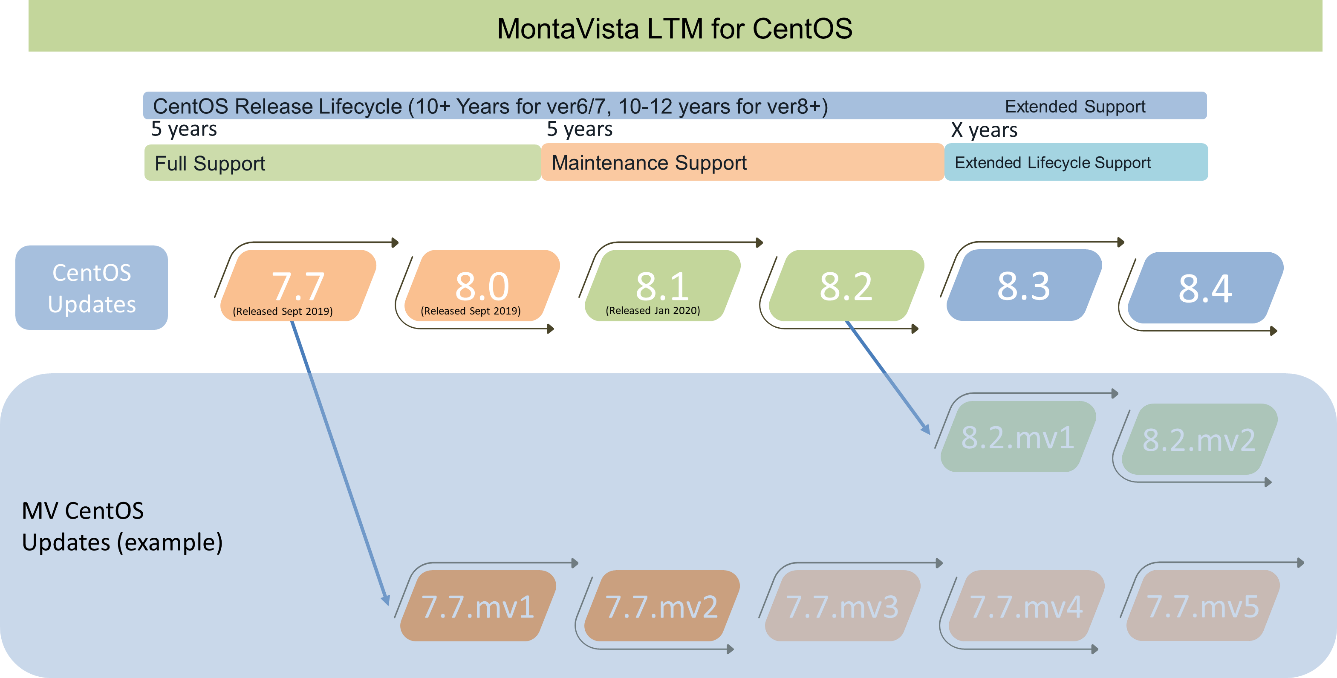 In our view here are some of the reasons to choose a MontaVista-supported CentOS baseline:
Enterprise Linux base: Follows a well-known baseline, RHEL, and has an extensive application ecosystem.
Very competitive pricing, our services have a fixed yearly cost with no run-time fees or licenses that can provide 30-50% annual savings
No lock-in effect, all open-source distribution, no multi-year tie-in with the service
Risk reduction by having MontaVista handle the distribution maintenance for security vulnerabilities and defects, allowing you to focus on your products core value
Peace of mind for having a trusted partner to provide advice for your Linux needs and be on-call to handle technical support issues
The following diagram depicts some key differences between RHEL, community CentOS and MVShield for CentOS distributions.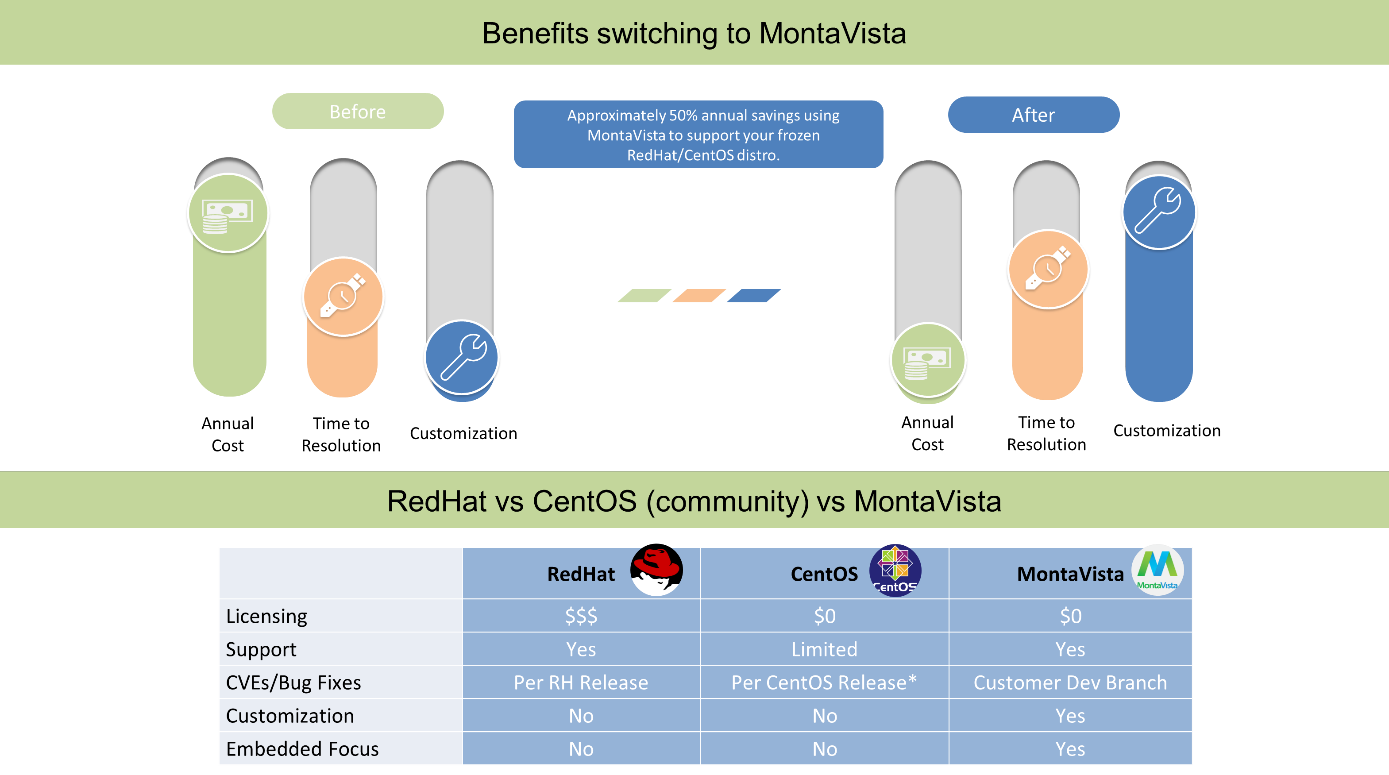 Our commercial support offering for CentOS distributions is available now.
Please contact MontaVista at sales@mvista.com or use the Contact Us form to get in touch today!
---
This site is not endorsed by the CentOS Project